There Is a Happiness That Morning Is
by Mickle Maher
". . . richer, funnier, and more heartbreaking than ever… If the American theater harbors a precedent for Mickle Maher's astonishing 2011 play There Is a Happiness That Morning Is, I've never found it . . ." –Chicago Reader
"The most remarkable mix of poetry and drama you are ever likely to see." -WBEZ
"MAHER'S MOST POWERFUL PLAY TO DATE… SOUL SHAKING" –Chicago Reader
"an enjoyably lunatic endeavor" –Chicago Tribune
"Goosed by precise, masterful performances, Maher's text is almost endlessly engaging and frequently hilarious." –Time Out Chicago
"FUNNY, WITTY, LITERATE, and PROFOUND… It's the actors who make it a slam-dunk" –Windy City Times
JANUARY 31-MARCH 10, 2013
EXTENDED THROUGH APRIL 7
Thursday-Saturday at 8pm
Sunday at 3pm
(no shows Thursdays March 28 & April 4)
INDUSTRY NIGHT: MONDAY APRIL 1st at 8pm
VICTORY GARDENS BIOGRAPH THEATER
2433 North Lincoln Avenue, Chicago
773.871.3000
$15 suggested donation*
More if you got it,
free if you're broke.
Theater Oobleck revives Mickle Maher's comedy in rhymed verse told via two lectures on the poetry of William Blake: one given in the morning by Bernard, a middle-aged, barely published poet of scant scholarship, on the Songs of Innocence, and the other in the afternoon by his lover, Ellen, a reputable Ph.D., on the Songs of Experience.
Having engaged the evening before in a highly inappropriate display of public affection on the main lawn of their rural New England campus, the two undergraduate lecturers must now, in class, either apologize for their behavior or effectively justify it if they want to keep their jobs.
Featuring Diana Slickman, Colm O'Reilly, and Kirk Anderson.
The script of There Is A Happiness That Morning Is is also available as part of the book of Oobleck plays More If You've Got It. Purchase it directly from us.
*Quick ticket explanation: You can get your "more if you've got it, free if you're broke" tickets (as per Theater Oobleck tradition) by calling the box office 773-871-3000. For on-line tickets, click on the link above, then click on the day you want. Then in the next screen you indicate how many tickets you want. Then in the NEXT screen you are given the option of a "Regular Price" (that would be $15), a $10, or a $1 ticket.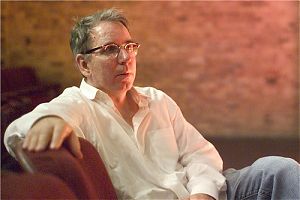 Mickle Maher
Mickle Maher (playwright) is a cofounder of Theater Oobleck, and has been a playwright/adaptor/translator for 20 years. He has authored eight plays for Oobleck, including The Strangerer (funded by a grant from Creative Capital), Spirits to Enforce, and The Hunchback Variations. Other plays include Cyrano (translator) and The Cabinet for Redmoon Theater, and Lady Madeline for Steppenwolf Theatre Company. Maher's works have been produced throughout the country and in Europe. His children's book, Master Stitchum and the Moon, is published by Bollix Books. His plays are published by Hope and Nonthings. He is currently working with Redmoon's Frank Maugeri on a shadow/slide theater work about a very old Superman.
related articles: