We've got plenty on our plate, but Oobleckers are keeping busy. Here's the latest from the ensemble and our pals:

Coming up December 13th, Martha Bayne's ongoing Soup and Bread project will have a Holiday Jamboree fundraiser at the Hideout.
Martha is also currently co-editor of the Sunday edition of the on-line magazine The Rumpus.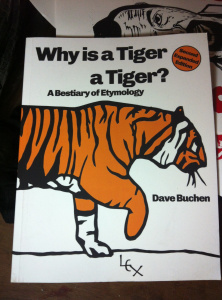 Dave Buchen's Why Is a Tiger Tiger? is back in print, and his hand-printed 2015 Calendars are ready to be mailed to you. You can order these from his website, where you can click on the paypal link.

New productions of plays Mickle Maher wrote for Oobleck recently wrapped up in DC and Cleveland. The WSC Avant Bard production of There Is a Happiness That Morning Is garnered a nice rave in Broadway World. And the Cleveland Plain Dealer called Spirits to Enforce (in the Cleveland Public Theatre production) a "nimble, surreal comedy directed with smarts and a puckish sense of the absurd" in their must-read review.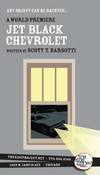 Diana Slickman is in Jet Black Chevrolet at the side project theater. Get your tickets, and see the great reviews from the Reader ("The talented Diana Slickman") and Trib ("Slickman and Koon are terrific").


She is also featured in a new anthology, Bare-Knuckled Lit: The Best of Write Club from Hope and Nonthings books. You can buy your very own copy at a book-release event (at the Hideout, again), 7pm December 16, a show that will feature our own David Isaacson. That's right, this show is directly before the latest episode of Baudelaire in a Box, The King of Rain. Come for Write Club, stay for Oobleck.
And speaking of Baudelaire in a Box, we would like to direct your attention to a couple great reviews that former participants in this mega-project have been getting. Lindsey Noel-Whiting, who sang the songs of Jeff Dorchen in Episode 5: Possession, is currently sharing the role of Alice in Lookingglass Alice, and got a great review in the Trib.
And back in September, Kate Douglas (from Episode 6: Elevation) got this nice notice in The New York Times.