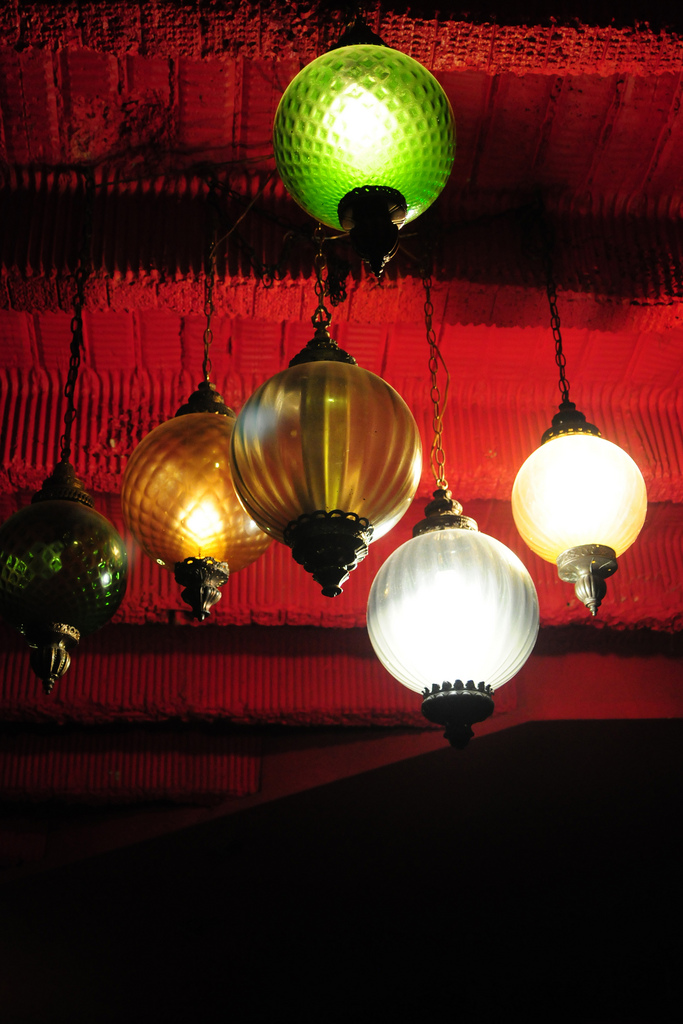 Cabaret Oobleck
Oobleck regulars, irregulars, and friends present music, readings, and more, hosted by David Kodeski.
Thursdays 7:30 pm
at the Chopin Theatre
1543 West Division, Chicago map
Tickets are $12, more if you've got it, free if you're broke
For reservations call 773-347-1041
or reserve here
SCHEDULE

of

PERFORMANCES

:
10/1
Chris Schoen
Diana Slickman
Eric Ziegenhagen
10/8
BoyGirlBoyGirl
David Isaacson
ElvisBride
10/15
BoyGirlBoyGirl
Michael Zerang and Jim Baker
Magnus & Schoen
10/22
BoyGirlBoyGirl
Naomi Ashley & David Kodeski
10/29
BoyGirlBoyGirl
Beau O'Reilly & The Crooked Mouth String Band
John Szymanski
11/5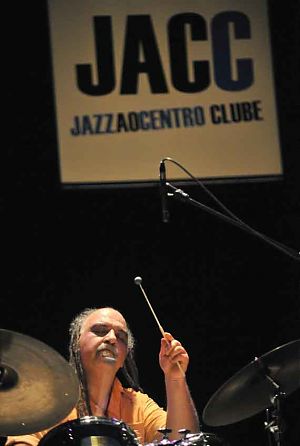 Michael Zerang
Michael Zerang was born in Chicago, Illinois and is a first generation American of Assyrian decent. He has been a professional musician, composer, and producer since 1976, focusing extensively on improvised music, free jazz, contemporary composition, puppet theater, experimental theater, and international musical forms.
He has collaborated extensively with contemporary theater, dance, and other multidisciplinary forms and has received three Joseph Jefferson Awards for Original Music Composition in Theater, in 1996, 1998, and 2000. He has over sixty titles in his discography and has toured nationally and internationally since 1981 with and ever-widening pool of collaborators. He was the artistic director of the Links Hall Performance Series from 1985-1989 where he produced over 300 concerts of jazz, traditional ethnic folk music, electronic music, and other forms of forward thinking music. He continued to produce concerts at Cafe Urbus Orbis from 1994-1996, and at his own space, The Candlestick Maker, in Chicago's Albany Park neighborhood, from 2001 – 2005. He has taught as a guest artist at The School of the Art Institute of Chicago in performance technique, sound design, and sound/music as it relates to puppetry; rhythmic analysis for dancers at The Dance Center of Columbia College, Northwestern University, and MoMing Dance and Arts Center; courses in Composer – Choreographer Collaborations at Northwestern University; music to children at The Jane Adams Hull House. He has held workshops in improvisational music and percussion technique and teaches private lessons in rhythmic analysis, music composition, and percussion technique.
Chris Schoen
Oobleck Artistic Ensemble member Chris Schoen is a writer, composer, and sound designer. He has written music and sound elements for a number of plays and performances by Theater Oobleck including The Strangerer, Strauss at Midnight, Spukt, Natural History, and The Book of Grendel.
As a solo musician, Schoen has released two CDs on Discobolus records, and he has performed and recorded with Art of Flying, Lords of Howling, The Chatterkings, The Unleavened, and Bingo Smith. His newest project (2009) is a collaboration with theater artist and composer Jenny Magnus, imaginatively titled Magnus & Schoen.
Diana Slickman
Diana Slickman has been involved with a number of Chicago theatre companies as a performer, producer, director, writer, and administrator, sometimes all at the same time. A longtime member of the Neo-Futurists, she performed in their signature show "Too Much Light Makes the Baby Go Blind" for eight years and contributed to many of their "prime time" productions, including Drinking & Writing, You Are Not Here, and The Sycamore Story. She is currently a member of Theatre Oobleck's artistic ensemble, having appeared in their productions of The Trojan Candidate, Spirits to Enforce, The Passion of the Bush, The Book of Grendel, Letter Purloined and Spukt.
Diana's performance work has included all manner of things, from the plays of Shakespeare to standup comedy to a staged chronicle of the evolution of American obscenity law. She is the sometime associate publisher for Hope & Nonthings and full-time associate publisher for Agate Publishing. Diana prefers summer to winter, baseball to football, scotch whisky to beer, and the mountains to the seaside.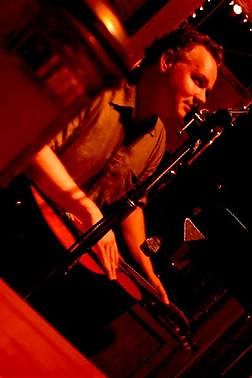 Eric Ziegenhagen
Eric Ziegenhagen has performed his spare, offbeat original songs in clubs, coffeehouses, and cabarets around the U.S. and Canada, and recorded his first CD, "You're Talking to the Wrong Guy," in 2005. He has directed plays by Beau O'Reilly, Wendy MacLeod, Brett Neveu, Barrie Cole and others at Curious Theatre Branch, The Side Project, and Links Hall, and hosts an occasional variety show, The Goat Show, with Collaboraction.
BoyGirlBoyGirl
BoyGirlBoyGirl is Rachel Claff, Susan McLaughlin Karp, David Kodeski, Stephanie Shaw, Diana Slickman, and Edward Thomas-Herrera, six seasoned writer/performers who, from time to time, pool their respective talents to perform original monologues inspired by a single agreed-upon text. Sometimes that inspiration is direct, sometimes tangential. At BoyGirlBoyGirl, there are no bad responses, only bad monologues.
BoyGirlBoyGirl was born on a hot summer evening in 2002, when Susan McLaughlin Karp, David Kodeski, Stephanie Shaw, and Edward Thomas-Herrera were enjoying margaritas at El Tipico, the now-condo-ized Mexican restaurant on the corner of Foster and Wolcott. While lamenting the state of solo performance in Chicago, they hit upon the idea of writing a quartet of 15-minute monologues inspired by a single text. Together, they could create an hour-long showcase for their work.
But first, some of them had babies, some of them toured Western Australia, and some of them bought a house. Finally, in 2004, they got their act together and produced "The New, More Thrilling Secrets" based on stories taken from a true romance magazine from 1958. Justin Hayford of the Chicago Reader said many kind things about it and the rest is production history.
In 2006, BGBG presented "Zest for Gloom" and welcomed the formation of the BoyGirlBoyGirl Ladies Auxiliary (Rachel Claff and Diana Slickman), two able-bodied performers who agreed to sub for an otherwise unavailable Mrs. Karp and Mrs. Shaw. Little did we realize that once we welcomed them into our fold, we never wanted them to leave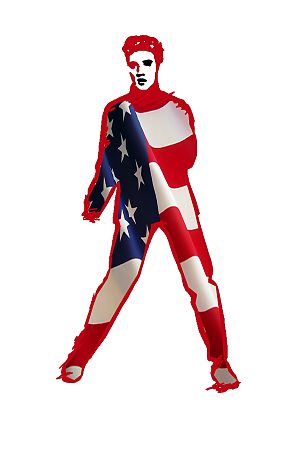 ElvisBride
The critically incendiary, surreal-existentialist curiosity of the 2009 Rhinoceros Theater Festival returns as a musical sextet performing an array of speculative-musical jubilations just for you. Kurt Weill meets They Might Be Giants you say? Sure, we say.
If you like difficulty, handlessness, animals, failure, and animals who fail, we've covered all your bases for you. So you're free to hang out and do whateves. And who doesn't like whateves?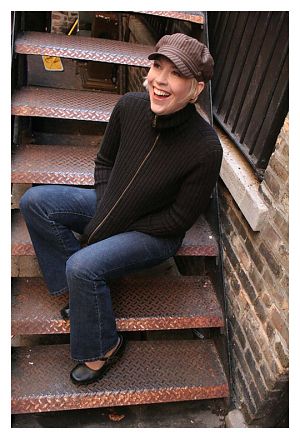 Naomi Ashley
Both with her tight Naomi Ashley Band (including fiddle-virtuoso Cathie Van Wert) and as a solo artist, Naomi regularly appears at leading Chicago-area venues, including: Fitzgerald's, SPACE, Schubas and Uncommon Ground. And at major regional venues, including the Acorn Theater in Three Oaks, Michigan.
Her popularity and breadth of great material — from double-over funny to double-bourbon heartbreak — make Naomi a versatile and sought-after opener for national acts, including Carrie Rodriguez, Fred Eaglesmith, Paul Thorn, Sarah Borges & the Broken Singles, Cheryl Wheeler and Antje Duvokot. And with the recent release of her haunting masterpiece Another Year Or So — praised by reviewers as "brilliant" and "one of the top five albums of 2007" — her profile continues to grow regionally and nationally.
Recently, Another Year Or So garnered a Best New Folk Song of 2009 nomination at the Just Plain Folks Music Awards for the heart-wrenching honky-tonk waltz Linda.
Naomi first gained notice with the release of her inaugural CD, the six-song Love and Other Crap in 2001. Recorded in a friend's basement, are shockingly funny, tough and perceptive takes on the insanity of love. Or as one cheerfully addled stalker puts it, "Folks say I'm crazy. I say I'm crazy in love."
In 2002, she released her first full-length album Small Town Thing with her country-rock band Naomi Ashley and County Fair. In Small Town Thing Naomi reached back to her rural roots with lyrical narratives described as "being ripped straight from the headlines of small town newspapers and barroom conversations." Also an adept comedic performer, in 2004 Naomi began performing on Chicago's comedy and cabaret circuits as half of the comedy-folk duo Naomi & Ben.
Recently expanding her scope to the medium of performance art, Naomi collaborates with celebrated Chicago spoken-word artists — such as poetry slams founding father Marc Smith and acclaimed writer and storyteller David Kodeski — both in the recording studio and in performance.
Naomi currently resides on Chicago's northside with husband, bluegrass musician Ben Benedict and their two cats.
John Szymanski
John Szymanski is excited to be performing for Cabaret Oobleck. He has been playing guitar since the age of five, and is also proficient on several other instruments, including drums, bass guitar, keyboards, ukulele, mandolin, and banjo. John is currently performing with indie-pop band My My My, the cover band Sidecar, and a rockabilly-Irish music ensemble called Margo Jean and the Rubes. In addition, he is an elementary school music teacher, is the sound designer for the Neo Futurists' current production Fear, and also works as a recording engineer, composer and video editor. This is his first solo musical performance in ages.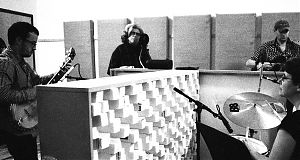 Beau O'Reilly and The Crooked Mouth String Band
A band for the times, both good and bad; Crooked Mouth gives the songwriters their due, pretends to be folksy but really leans on the Brechtsy, and harmonizes the themes of loss and forebearance.
Even in Blackouts
The date: 1986. John "Jughead" Pierson and some other guy form the band Screaching Weasel. Other bands like Green Day – you've all heard of them, right? – cite Screaching Weasel as a major influence. That's pretty damn cool; can you say "seminal?" Eventually Weasel breaks up – even good bands can't escape every rock and roll cliche. Skip to 2001: John's in Italy and he starts writing some songs, although that wasn't the point of the trip. He just had the music in him. That's how he is, always with something to say. Can't shut him up. Anyway, back in the states he meets this woman, Lizzie Eldredge (remember that name: Lizzie Eldredge. She's gonna be huge). So he meets Lizzie at an Aerosmith concert and they form this band, Even In Blackouts (EIB to those of us who are so very cool). They're an acoustic pop-punk band, so they can play if the power goes out, see? Okay, to continue: John sends an ad for musicians into one of the internet tubes and out comes the rest of the band: Gub Conway, Phillip Hill and Nathan Bice (although Bice won't be performing with them when you see them). Some people, especially the person who wrote their Wikipedia entry, say that "Even in Blackouts have been lauded by critics and fans alike for their musicianship and sense of innovation in bringing pop-punk to a new format. The energy and intimacy of Even in Blackout's live performances have attracted particular acclaim." And there you have it.
EIB Discography: Myths and Imaginary Magicians; Foreshadows on the Wall (EP); Zeitgeist's Echo; The Fall of the House of Even; Thresholds From The Basement.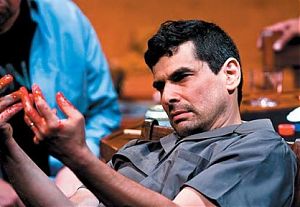 David Isaacson
David Isaacson is a founding member of Chicago's seminal Theater Oobleck, for which he has written fourteen plays, including Letter Purloined, Rumsfeld's Attic, Isak Dinesen's Babette's Feast, The Making of Freud, The Spy Threw His Voice: A Plagiarism in Two Acts, and Three Who Dared: A Play on the Movies. He is also the co-author of Embrace the Serpent, The Campaign by Marilyn and The Golden Election by Marilyn Quayle and her Sister and Theater Oobleck. Isaacson is also an actor and has appeared in thirty Theater Oobleck shows. He has also performed in Chicago with the Curious Theater Branch, Red Moon, the Splinter Group, Theater for the Age of Gold, and in Ann Arbor, Michigan with The Performance Network and the Brecht Company.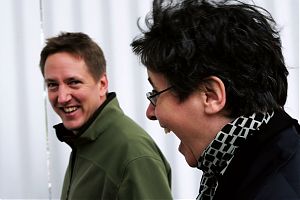 Magnus & Schoen
Magnus & Schoen is a rockish collaboration between theater artist, songwriter and drummer Jenny Magnus (Maestro Subgum and the Whole, The Vulva Club, Ominous Clam, and The Crooked Mouth String Band) and guitarist Chris Schoen (Theater Oobleck, Lords of Howling, The Unleavened). Booming yet squelchy. Modestly expansive. Cabaret Oobleck is their cosmic debut.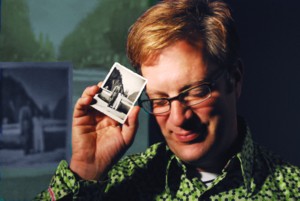 David Kodeski
David Kodeski is the creator of David Kodeski's True Life Tales, an ongoing series of critically-acclaimed solo performances which include Doris (1996), Niagara! (you should have been Yosemite) (1997), Another Lousy Day (1999), The Sycamore Story (2001), I Can't Explain the Beauty (2002), and And Some Can Remember Something of Some Such Thing (2005). His Niagara! (you should have been Yosemite) inspired a Niagara-based episode of National Public Radio's This American Life. A radio version of Another Lousy Day was produced by Long Haul Productions and was heard on All Things Considered.
Kodeski has been an ensemble member of the Neo-Futurists since 1991, co-host and creator of The Pansy Kings' Cotillion and is founding member of BoyGirlBoyGirl. He has performed his work at the Perth International Fringe Festival, The Perth International Arts Festival and the Dublin Gay Theatre Festival. You can learn more about his work (as well as listen to his podcasts) at his website, truelifetales.com