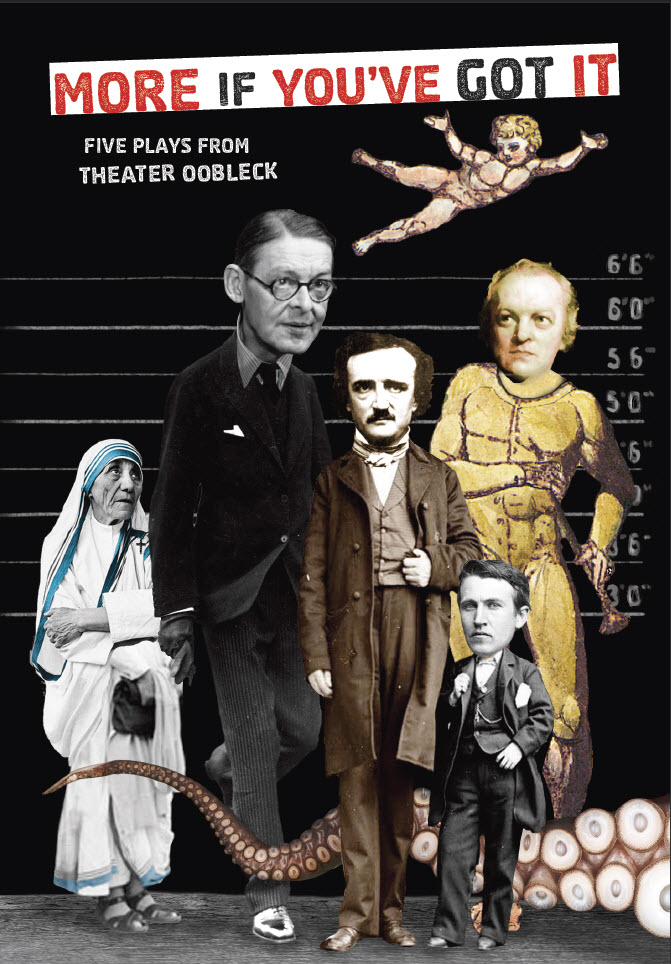 More If You've Got It: Five Plays From Theater Oobleck
$16 USD plus shipping and handling. 400 pages.
Hope and Nonthings books has published a volume of Oobleck works entitled More If You've Got It: Five Plays From Theater Oobleck.
The book is available from fine booksellers everywhere, or online via the little yellow button at the top of this page. Yes, that one right there, that entreats you to "Buy Now!"
"For my money, there is no other theater company in America that has so consistently created original, excellent, principled theater." –Greg Kotis, from the preface to MORE IF YOU'VE GOT IT
More If You've Got It features works by five Oobleck founding members, each currently active with the company: Ugly's First World by Jeff Dorchen, in which a singing zombie, seeking revenge against T. S. Eliot, becomes a pawn in a battle to overthrow God; Innocence and Other Vices by Dave Buchen, a half-true, half-blasphemous screwball comedy about the mildly unhealthy relationship between charity and capitalism; Letter Purloined by David Isaacson, a whodunit comedy about war atrocities and a handkerchief; There Is a Happiness That Morning Is by Mickle Maher, a play in rhymed verse, about the poetry of William Blake and having sex in public; and Necessity by Danny Thompson, a bloody and historically inaccurate bio-drama of Thomas Alva Edison. See what audiences around the world have come to know as uniquely Oobleckian: irreverent, vexed, impossibly funny, and unexpectedly transcendent.