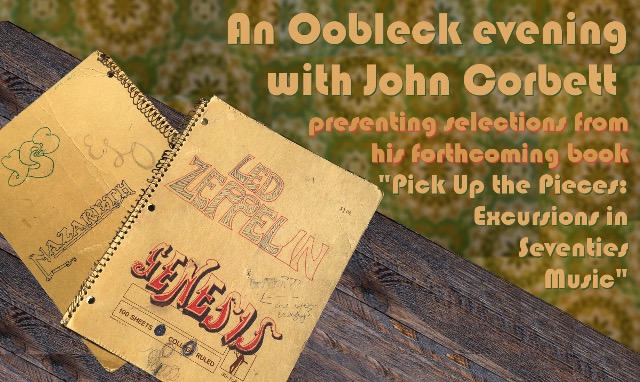 Just What I Needed
An Oobleck evening with writer John Corbett, presenting selections from his forthcoming book
Pick Up the Pieces: Excursions in Seventies Music
Tuesday December 12
at 7:00 p.m.
Upstairs at
the Hopleaf Bar
5148 N. Clark
Free, no reservations required
Pick Up the Pieces presents an unusual mix of memoir and music criticism, covering the momentous decade of the 1970s, stretching from post-psychedelia through metal and glam and disco to post-punk. Structured chronologically as a series of 76 independent essays focused on one or two records each, it wends its way through many different kinds of music, from Elton John to the Spinners to Joni Mitchell to Genesis to Fela to Elvis Costello to Grace Jones. The cumulative effect is a combo platter of coming-of-age story and detailed analysis, a meditation on aging and a remembrance of things past, and a story of how one person learned to listen. For Just What I Needed, Corbett will read chapters on Fleetwood Mac and Parliament, and Diana Slickman and Terri Kapsalis will perform the third act of a five act play about post-punk and power-pop that appears in the book. Pick Up the Pieces will be published in 2018 by the University of Chicago Press.
John Corbett is the author of Extended Play: Sounding Off from John Cage to Dr. Funkenstein, Microgroove: Forays into Other Music, A Listener's Guide to Free Improvisation, and Vinyl Freak: Love Letters to a Dying Medium.